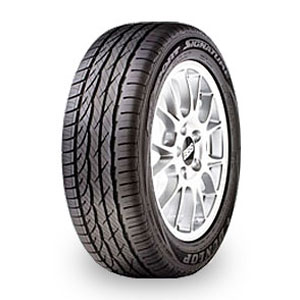 Dunlop SP Sport Signature
Dunlop  Tires-Sport Signature is available in Oak Ridges, Newmarket and Stouffville at Aurora Tire.
Dunlops new all-season performance tire  combines the wet-road gripping power of Hydro-Paddles and a new Dry Performance Sector for enhanced cornering on twisting country roads. The new Dunlop SP Sport Signature® performance tire, a cousin to the brand's family-car Signature brand, is "built for the growing numbers of performance drivers who demand all-season traction and enhanced tread life to go with cornering G-forces." Located inboard, the Wet Performance Sector features Dunlop's Hydro-Paddle Technology, a hydrodynamic feature that literally helps pump water through a narrow channel and away from the tire, silica tread compounds that help maintain grip on wet surfaces, and full-depth sipes for enhanced water evacuation. Outboard, the tire's Dry Performance Sector uses a solid shoulder area for enhanced dry handling, straight sipes for a stiff solid contact surface and a solid center rib for enhanced road feedback for stability and driving confidence.