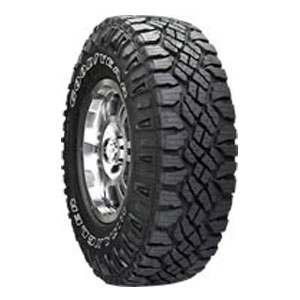 Goodyear Wrangler Dura Trac
Goodyear Wrangler Dura Trac–is available at Aurora Tire.  A hard working, versatile tire offering on and off – road traction.
Features TractiveGroove technology which offers enhanced traction in deep mud and snow. The highly angled center tread blocks help provide traction and lateral stability while also reducing road noise. Features the Mountain Snowflake symbol for legal winter use. Pinned for #16 metal studs for enhanced traction on ice.
The new Wrangler DuraTrac features TractiveGroove Technology to help get the job done when the roads get tough. Offering enhanced traction in deep mud and snow, the Wrangler DuraTrac is a hardworking tire for drivers who don't know the meaning of the word quit.
Self-cleaning shoulder blocks Help provide enhanced dirt, gravel and mud traction
Highly angled center tread blocks Help provide enhanced traction and lateral stability while reducing road noise
Rim protector Helps protect wheels from accidental curb damage
Pinned for #16 metal studs* Enhanced traction in winter driving conditions
| | | |
| --- | --- | --- |
| | | This tire bears the Severe Service Emblem denoting that it is suitable for use in severe winter conditions. Tires bearing this symbol will provide better winter performance than tires only bearing the M+S rating. |