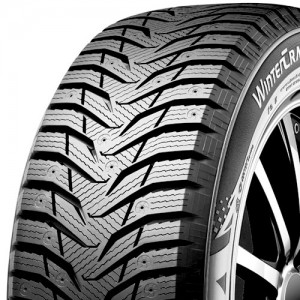 Kumho WI31- winter tire-Oak Ridges-Aurora
October 21,2017
The "NEW" Wintercraft Wi31 in Aurora, Newmarket area features the latest in technology advancements with optimal stud arrangement for maximized ice performance, upgraded stud deco for improved braking on ice, 3D snow sipes that deliver better handling, braking and control and a new lateral groove design for reinforcement of snow/wet traction with improvement of traction with directional design biting edge block formation. This new studdable tire is available in 49 sizes in both T and Q speed ratings and offers consumer leading edge tire technology with unrivaled quality, safety, and value from any of its competitors.
Featuring an all-new tread pattern and compounding, the "NEW" Wintercraft WP51 ensures ultimate grip in severe winter conditions. The optimum arrangement of 3D snow sipes reinforce performance, improve braking and handling on snowy roads, while the wide lateral grooves for water displacement reinforces wet performance. Wintercraft WP51 also provides improvements in dry performance and increased center rib stiffness through its rib style tread blocks and delivers improvements in tread wear. This new alpine winter tire is available in 45 sizes in T,H & V speed ratings and is the perfect choice for high performance car owners looking for excellent handling and braking performance on snowy and slushy roads.
"The addition of the Wi31 and WP51 to our already industry leading lineup of winter tires shows our commitment to the Canadian market by continuously developing new leading edge products to meet the market demands of our valued partners and most importantly the consumer who demands safety, quality and value for their money," said Greg Lamothe, Director of Sales of Kumho Tire Canada.