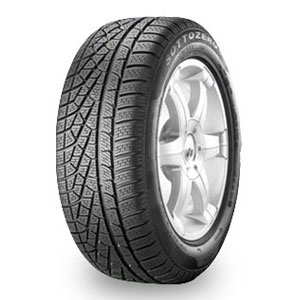 For demanding drivers , the WINTER SOTTOZERO™ SERIE II is suited for winter driving in Aurora, Newmarket,Richmond Hill, Vaughn area and guarantees excellent performance on dry and wet roads, and in the presence of snow. In temperatures below 7°C, it counters aquaplaning more effectively than an all season or summer tire.An innovative tire for sports cars and medium to high-powered sedans, the WINTER SOTTOZERO™ SERIE II offers excellent driving safety in all road conditions during the cold weather season.
The asymmetrical tread pattern is divided into two distinct elements: the inner area expels water effectively while the external area ensures high levels of grip on snow with its more rigid and spaced blocks. These features on the W270 version are enhanced by the exclusive patented twin-compound solution.
Characterized by low rolling resistance, the WINTER SOTTOZERO™ SERIE II also provides low noise levels, enhancing comfort in the cabin.
Size Range
Size
Code
Manufacturer

205/55R16 91H

Pirelli-Newmarket,Aurora,Richmond Hill,King City,Vaughn
Pirelli-Newmarket,Aurora,Richmond Hill,King City,Vaughn
205/55R16 94H XL
Pirelli-Newmarket,Aurora,Richmond Hill,King City,Vaughn
205/55R16 94V
Pirelli-Newmarket,Aurora,Richmond Hill,King City,Vaughn
205/60R16 92H
Pirelli-Newmarket,Aurora,Richmond Hill,King City,Vaughn
205/60R16 96H XL
Pirelli-Newmarket,Aurora,Richmond Hill,King City,Vaughn
215/45R16 86H
Pirelli-Newmarket,Aurora,Richmond Hill,King City,Vaughn
215/55R16 93H
Pirelli-Newmarket,Aurora,Richmond Hill,King City,Vaughn
215/55R16 97H XL
Pirelli-Newmarket,Aurora,Richmond Hill,King City,Vaughn
215/60R16 99H XL
Pirelli-Newmarket,Aurora,Richmond Hill,King City,Vaughn
215/65R16 98H
Pirelli-Newmarket,Aurora,Richmond Hill,King City,Vaughn
225/50R16 96V
Pirelli-Newmarket,Aurora,Richmond Hill,King City,Vaughn
225/55R16 95H
Pirelli-Newmarket,Aurora,Richmond Hill,King City,Vaughn
225/55R16 95H
Pirelli-Newmarket,Aurora,Richmond Hill,King City,Vaughn
225/55R16 99H XL
Pirelli-Newmarket,Aurora,Richmond Hill,King City,Vaughn
225/55R16 99V
Pirelli-Newmarket,Aurora,Richmond Hill,King City,Vaughn
225/60R16 98H
Pirelli-Newmarket,Aurora,Richmond Hill,King City,Vaughn

17"

Pirelli-Newmarket,Aurora,Richmond Hill,King City,Vaughn
205/45R17 88H XL
Pirelli-Newmarket,Aurora,Richmond Hill,King City,Vaughn
205/45R17 88V XL
Pirelli-Newmarket,Aurora,Richmond Hill,King City,Vaughn
205/50R17 93H
Pirelli-Newmarket,Aurora,Richmond Hill,King City,Vaughn
205/50R17 93H
Pirelli-Newmarket,Aurora,Richmond Hill,King City,Vaughn
205/50R17 93H XL
Pirelli-Newmarket,Aurora,Richmond Hill,King City,Vaughn
205/50R17 93V XL
Pirelli-Newmarket,Aurora,Richmond Hill,King City,Vaughn
205/55R17 91H
Pirelli-Newmarket,Aurora,Richmond Hill,King City,Vaughn
205/55R17 91H
Pirelli-Newmarket,Aurora,Richmond Hill,King City,Vaughn
205/55R17 91V
Pirelli-Newmarket,Aurora,Richmond Hill,King City,Vaughn
205/55R17 95H XL
Pirelli-Newmarket,Aurora,Richmond Hill,King City,Vaughn
205/65R17 96H
Pirelli-Newmarket,Aurora,Richmond Hill,King City,Vaughn
215/40R17 87H XL
Pirelli-Newmarket,Aurora,Richmond Hill,King City,Vaughn
215/45R17 91H XL
Pirelli-Newmarket,Aurora,Richmond Hill,King City,Vaughn
215/45R17 91V XL
Pirelli-Newmarket,Aurora,Richmond Hill,King City,Vaughn
215/50R17 91H
Pirelli-Newmarket,Aurora,Richmond Hill,King City,Vaughn
215/50R17 95V XL
Pirelli-Newmarket,Aurora,Richmond Hill,King City,Vaughn
215/55R17 98H XL
Pirelli-Newmarket,Aurora,Richmond Hill,King City,Vaughn
215/60R17 96H
Pirelli-Newmarket,Aurora,Richmond Hill,King City,Vaughn
225/45R17 91H
Pirelli-Newmarket,Aurora,Richmond Hill,King City,Vaughn
225/45R17 91H
Pirelli-Newmarket,Aurora,Richmond Hill,King City,Vaughn
225/45R17 94H XL
Pirelli-Newmarket,Aurora,Richmond Hill,King City,Vaughn
225/45R17 94V XL
Pirelli-Newmarket,Aurora,Richmond Hill,King City,Vaughn
225/50R17 94H
Pirelli-Newmarket,Aurora,Richmond Hill,King City,Vaughn
225/50R17 94H
Pirelli-Newmarket,Aurora,Richmond Hill,King City,Vaughn
225/50R17 98H XL
Pirelli-Newmarket,Aurora,Richmond Hill,King City,Vaughn
225/50R17 98V XL
Pirelli-Newmarket,Aurora,Richmond Hill,King City,Vaughn
225/55R17 101V XL
Pirelli-Newmarket,Aurora,Richmond Hill,King City,Vaughn
225/55R17 97H
Pirelli-Newmarket,Aurora,Richmond Hill,King City,Vaughn
225/55R17 97H
Pirelli-Newmarket,Aurora,Richmond Hill,King City,Vaughn
225/60R17 99H
225/60R17 99H
225/65R17 102H
Pirelli-Newmarket,Aurora,Richmond Hill,King City,Vaughn
235/45R17 97H XL
Pirelli-Newmarket,Aurora,Richmond Hill,King City,Vaughn
235/45R17 97V XL
Pirelli-Newmarket,Aurora,Richmond Hill,King City,Vaughn
235/50R17 96V
Pirelli-Newmarket,Aurora,Richmond Hill,King City,Vaughn
235/55R17 99H
Pirelli-Newmarket,Aurora,Richmond Hill,King City,Vaughn
235/60R17 102H
Pirelli-Newmarket,Aurora,Richmond Hill,King City,Vaughn
245/45R17 99H
Pirelli-Newmarket,Aurora,Richmond Hill,King City,Vaughn
245/45R17 99H XL
Pirelli-Newmarket,Aurora,Richmond Hill,King City,Vaughn
245/55R17 102V
Pirelli-Newmarket,Aurora,Richmond Hill,King City,Vaughn

18"

215/40R18 89V XL
Pirelli-Newmarket,Aurora,Richmond Hill,King City,Vaughn
215/45R18 93V
Pirelli-Newmarket,Aurora,Richmond Hill,King City,Vaughn
225/40R18 92V
Pirelli-Newmarket,Aurora,Richmond Hill,King City,Vaughn
225/40R18 92V
Pirelli-Newmarket,Aurora,Richmond Hill,King City,Vaughn
225/40R18 92V XL
Pirelli-Newmarket,Aurora,Richmond Hill,King City,Vaughn
225/45R18 91H
225/45R18 95V XL
Pirelli-Newmarket,Aurora,Richmond Hill,King City,Vaughn
225/50R18 99H
Pirelli-Newmarket,Aurora,Richmond Hill,King City,Vaughn
235/40R18 91V
Pirelli-Newmarket,Aurora,Richmond Hill,King City,Vaughn
235/40R18 95V XL
Pirelli-Newmarket,Aurora,Richmond Hill,King City,Vaughn
235/45R18 94V
Pirelli-Newmarket,Aurora,Richmond Hill,King City,Vaughn
235/45R18 98V XL
Pirelli-Newmarket,Aurora,Richmond Hill,King City,Vaughn
235/55R18 104H
Pirelli-Newmarket,Aurora,Richmond Hill,King City,Vaughn
245/35R18 92V XL
Pirelli-Newmarket,Aurora,Richmond Hill,King City,Vaughn
245/40R18 97H
Pirelli-Newmarket,Aurora,Richmond Hill,King City,Vaughn
245/40R18 97H XL
Pirelli-Newmarket,Aurora,Richmond Hill,King City,Vaughn
245/40R18 97V
Pirelli-Newmarket,Aurora,Richmond Hill,King City,Vaughn
245/45R18 100V
Pirelli-Newmarket,Aurora,Richmond Hill,King City,Vaughn
245/45R18 100V
Pirelli-Newmarket,Aurora,Richmond Hill,King City,Vaughn
Pirelli-Newmarket,Aurora,Richmond Hill,King City,Vaughn
245/50R18 100V
Pirelli-Newmarket,Aurora,Richmond Hill,King City,Vaughn
245/50R18 104V
Pirelli-Newmarket,Aurora,Richmond Hill,King City,Vaughn
Pirelli-Newmarket,Aurora,Richmond Hill,King City,Vaughn
255/40R18 95H
Pirelli-Newmarket,Aurora,Richmond Hill,King City,Vaughn
255/40R18 95V
Pirelli-Newmarket,Aurora,Richmond Hill,King City,Vaughn
255/40R18 99V XL
Pirelli-Newmarket,Aurora,Richmond Hill,King City,Vaughn
265/40R18 97V
Pirelli-Newmarket,Aurora,Richmond Hill,King City,Vaughn
265/45R18 101V
Pirelli-Newmarket,Aurora,Richmond Hill,King City,Vaughn
Pirelli-Newmarket,Aurora,Richmond Hill,King City,Vaughn
275/45R18 103V
Pirelli-Newmarket,Aurora,Richmond Hill,King City,Vaughn
295/35R18 99V
Pirelli-Newmarket,Aurora,Richmond Hill,King City,Vaughn

19"

225/40R19 89H
Pirelli-Newmarket,Aurora,Richmond Hill,King City,Vaughn
235/35R19 87V
Pirelli-Newmarket,Aurora,Richmond Hill,King City,Vaughn
235/35R19 91V XL
Pirelli-Newmarket,Aurora,Richmond Hill,King City,Vaughn
235/40R19 92V
Pirelli-Newmarket,Aurora,Richmond Hill,King City,Vaughn
235/40R19 96W XL
Pirelli-Newmarket,Aurora,Richmond Hill,King City,Vaughn
235/45R19 99V
Pirelli-Newmarket,Aurora,Richmond Hill,King City,Vaughn
235/50R19 103H
Pirelli-Newmarket,Aurora,Richmond Hill,King City,Vaughn
235/50R19 103V
Pirelli-Newmarket,Aurora,Richmond Hill,King City,Vaughn
235/50R19 99H
Pirelli-Newmarket,Aurora,Richmond Hill,King City,Vaughn
245/35R19 93W XL
Pirelli-Newmarket,Aurora,Richmond Hill,King City,Vaughn
Pirelli-Newmarket,Aurora,Richmond Hill,King City,Vaughn
Pirelli-Newmarket,Aurora,Richmond Hill,King City,Vaughn
245/45R19 102V
Pirelli-Newmarket,Aurora,Richmond Hill,King City,Vaughn
Pirelli-Newmarket,Aurora,Richmond Hill,King City,Vaughn
255/35R19 92H
Pirelli-Newmarket,Aurora,Richmond Hill,King City,Vaughn
255/35R19 96V
Pirelli-Newmarket,Aurora,Richmond Hill,King City,Vaughn
255/35R19 96V XL
Pirelli-Newmarket,Aurora,Richmond Hill,King City,Vaughn
255/35R19 96W
Pirelli-Newmarket,Aurora,Richmond Hill,King City,Vaughn
255/35R19 96W XL
Pirelli-Newmarket,Aurora,Richmond Hill,King City,Vaughn
255/40R19 100V
Pirelli-Newmarket,Aurora,Richmond Hill,King City,Vaughn
255/45R19 100V
Pirelli-Newmarket,Aurora,Richmond Hill,King City,Vaughn
265/35R19 98W XL
Pirelli-Newmarket,Aurora,Richmond Hill,King City,Vaughn
275/35R19 100W XL
Pirelli-Newmarket,Aurora,Richmond Hill,King City,Vaughn
275/35R19 96V
Pirelli-Newmarket,Aurora,Richmond Hill,King City,Vaughn
Pirelli-Newmarket,Aurora,Richmond Hill,King City,Vaughn
275/40R19 105V XL
Pirelli-Newmarket,Aurora,Richmond Hill,King City,Vaughn
275/40R19 105V XL
Pirelli-Newmarket,Aurora,Richmond Hill,King City,Vaughn
275/40R19 105W XL
Pirelli-Newmarket,Aurora,Richmond Hill,King City,Vaughn
285/30R19 98V
Pirelli-Newmarket,Aurora,Richmond Hill,King City,Vaughn
285/35R19 99V
Pirelli-Newmarket,Aurora,Richmond Hill,King City,Vaughn
285/40R19 103V
Pirelli-Newmarket,Aurora,Richmond Hill,King City,Vaughn
295/30R19 100V XL
Pirelli-Newmarket,Aurora,Richmond Hill,King City,Vaughn
295/35R19 100V
Pirelli-Newmarket,Aurora,Richmond Hill,King City,Vaughn

20"

235/35R20 92W XL
Pirelli-Newmarket,Aurora,Richmond Hill,King City,Vaughn
235/45R20 100W XL
Pirelli-Newmarket,Aurora,Richmond Hill,King City,Vaughn
245/35R20 91V
Pirelli-Newmarket,Aurora,Richmond Hill,King City,Vaughn
Pirelli-Newmarket,Aurora,Richmond Hill,King City,Vaughn
245/35R20 95W XL
Pirelli-Newmarket,Aurora,Richmond Hill,King City,Vaughn
245/40R20 99V XL
Pirelli-Newmarket,Aurora,Richmond Hill,King City,Vaughn
Pirelli-Newmarket,Aurora,Richmond Hill,King City,Vaughn
255/30R20 92V
Pirelli-Newmarket,Aurora,Richmond Hill,King City,Vaughn
255/40R20 101V
Pirelli-Newmarket,Aurora,Richmond Hill,King City,Vaughn
255/40R20 101V XL
Pirelli-Newmarket,Aurora,Richmond Hill,King City,Vaughn
265/35R20 99V
Pirelli-Newmarket,Aurora,Richmond Hill,King City,Vaughn
265/40R20 104V
Pirelli-Newmarket,Aurora,Richmond Hill,King City,Vaughn
265/45R20 108W XL
Pirelli-Newmarket,Aurora,Richmond Hill,King City,Vaughn
275/30R20 97V
Pirelli-Newmarket,Aurora,Richmond Hill,King City,Vaughn
275/35R20 102V XL
Pirelli-Newmarket,Aurora,Richmond Hill,King City,Vaughn
275/35R20 102W XL
Pirelli-Newmarket,Aurora,Richmond Hill,King City,Vaughn
275/40R20 106W XL
Pirelli-Newmarket,Aurora,Richmond Hill,King City,Vaughn
285/35R20 104V XL
Pirelli-Newmarket,Aurora,Richmond Hill,King City,Vaughn
285/35R20 104W XL
Pirelli-Newmarket,Aurora,Richmond Hill,King City,Vaughn
295/30R20 101W
Pirelli-Newmarket,Aurora,Richmond Hill,King City,Vaughn
295/30R20 101W XL
Pirelli-Newmarket,Aurora,Richmond Hill,King City,Vaughn
295/30R20 97V
Pirelli-Newmarket,Aurora,Richmond Hill,King City,Vaughn
335/30R20 104W
Pirelli-Newmarket,Aurora,Richmond Hill,King City,Vaughn