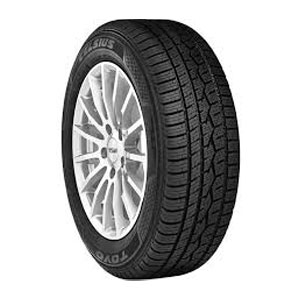 Toyo Celsius-All Weather Tires Aurora,Newmarket,King City
Oct. 16,2018-Toyo Celsius in Richmond Hill, Aurora, Newmarket,King City, Bradford
Toyo All Weather tires for a variety of vehicles.
The Toyo Celsius is true all weather tire designed for those drivers who need the added winter safety during occasional snow falls and cold weather conditions but don't want to incur the expense of buying, installing and storing winter tires. The Celsius is designed to be positioned between an all-season and winter tire with a tread design that provides better ice and snow traction than a typical all season tire and longer tread life than a winter tire.
WIDE LATERAL GROOVES

Wide lateral grooves help evacuate slush and water to reduce the risk of hydroplaning for better grip to the road surface.
ASYMMETRIC VARIABLE TREAD PATTERN

Outside tread – The asymmetric tread design features a lower sipe density on the outside tread for enhanced grip and traction on wet and dry roads for improved handling and cornering.
Inside tread – The inside tread has a much higher sipe density for better traction. on ice and snow.
VARIABLE MULTI-WAVE SIPES

Full depth Multiwave sipes increases tread block rigidity for better ice traction while reducing the possibility of irregular wear for a more comfortable ride.
Increased sipe density on the inside of the tire adds grip on ice and in compacted snow while cornering, braking or accelerating.
STAGGERED BLOCKS – SAWTOOTH EDGES

Staggered tread blocks help reduce road harmonics.
Sawtooth edges and distinct tread angles on the inside and centre tread blocks increase traction in inclement weather.
SNOW CLAWS

Located in both inside and outside grooves are designed to help improve deep snow traction and increase block rigidity for better handling.
Evacuation (Slush) Grooves

The inside tread features horizontal grooves designed to help efficiently evacuate snow and slush to ensure the tire remains in contact with the road for better grip.
UNIQUE TREAD COMPOUND

Specially formulated for an asymmetric pattern; maximizing all-season performance on the outside tread while delivering enhanced traction on the inside tread for traction in cold weather conditions.
ADVANCED TREAD DESIGN

Ensures a comfortable ride on dry roads and stability while driving at higher speeds. While an optimized tread angle design ensures maximum traction in all seasons.
ALIGNMENT INDICATORS

The Celsius is the first Toyo tire to feature alignment indicators located in the tread blocks on both the inside and outside tread helping owners and tire dealers to detect alignment issues.
ADDED SNOW AND ICE TRACTION

The "3 Peak Mountain Snow Flake symbol" embossed on the sidewall indicates that the Toyo Celsius exceeds the snow tire performance standards set by Transport Canada.