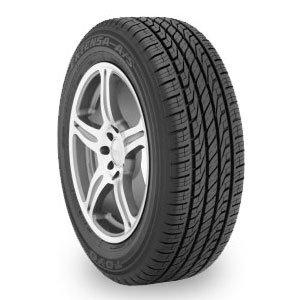 Toyo Extensa AS Tire-Newmarket
Oct. 15,213- Toyo Tire Extensa A/S in Richmond Hill L4E2W8– Newmarket L3Y9B8 -delivers exceptional versatility and value for a wide range of passenger cars and minivans. With an extended tread life, precise all-season handling, M&S rating, and a comfortable ride, Extensa A/S means extra confidence.
Symmetric, Non-Directional Tread Design – Enables cross rotation to reduce irregular wear and Improves all-season traction and tire life.
Optimized Center Block Arrangement – Variable-pitch angles on center blocks provide good road contact for increased ride comfort.
Four Wide Circumferential Grooves and Variable Pitch Channels – Evacuate water to improve wet traction.
Shoulder Rib – Connects shoulder blocks to minimize irregular wear and Increases stability.
Multi-Wave Sipes – Minimize irregular wear for longer tread life and a smooth, quiet ride and Increased all-season traction.
Tire rating – Consumer report 4/5 stars overall
| | | | | |
| --- | --- | --- | --- | --- |
| Sizes | Model | Description | Category | Manufacturuer |
| 155/80R13 79T | EXTENSA AS | A premium touring all season | all season | TOYO-aurora,newmarket,oak ridges,vaughn,king city,richmond hill |
| 175/70R13 82T | EXTENSA AS | A premium touring all season | all season | TOYO-aurora,newmarket,oak ridges,vaughn,king city,richmond hill |
| 175/65R14 T | EXTENSA AS | A premium touring all season | all season | TOYO-aurora,newmarket,oak ridges,vaughn,king city,richmond hill |
| 185/60R14 82T | EXTENSA AS | A premium touring all season | all season | TOYO-aurora,newmarket,oak ridges,vaughn,king city,richmond hill |
| 185/65R14 85T | EXTENSA AS | A premium touring all season | all season | TOYO-aurora,newmarket,oak ridges,vaughn,king city,richmond hill |
| 185/70R14 87T | EXTENSA AS | A premium touring all season | all season | TOYO-aurora,newmarket,oak ridges,vaughn,king city,richmond hill |
| 185/75R14 89T | EXTENSA AS | A premium touring all season | all season | TOYO-aurora,newmarket,oak ridges,vaughn,king city,richmond hill |
| 195/60R14 85T | EXTENSA AS | A premium touring all season | all season | TOYO-aurora,newmarket,oak ridges,vaughn,king city,richmond hill |
| 195/65R14 88T | EXTENSA AS | A premium touring all season | all season | TOYO-aurora,newmarket,oak ridges,vaughn,king city,richmond hill |
| 195/70R14 90T | EXTENSA AS | A premium touring all season | all season | TOYO-aurora,newmarket,oak ridges,vaughn,king city,richmond hill |
| 195/75R14 92T | EXTENSA AS | A premium touring all season | all season | TOYO-aurora,newmarket,oak ridges,vaughn,king city,richmond hill |
| 205/75R14 95T | EXTENSA AS | A premium touring all season | all season | TOYO-aurora,newmarket,oak ridges,vaughn,king city,richmond hill |
| 185/60R15 84T | EXTENSA AS | A premium touring all season | all season | TOYO-aurora,newmarket,oak ridges,vaughn,king city,richmond hill |
| 185/65R15 86T | EXTENSA AS | A premium touring all season | all season | TOYO-aurora,newmarket,oak ridges,vaughn,king city,richmond hill |
| 195/60R15 87T | EXTENSA AS | A premium touring all season | all season | TOYO-aurora,newmarket,oak ridges,vaughn,king city,richmond hill |
| 195/65R15 89T | EXTENSA AS | A premium touring all season | all season | TOYO-aurora,newmarket,oak ridges,vaughn,king city,richmond hill |
| 205/60R15 90T | EXTENSA AS | A premium touring all season | all season | TOYO-aurora,newmarket,oak ridges,vaughn,king city,richmond hill |
| 205/65R15 92T | EXTENSA AS | A premium touring all season | all season | TOYO-aurora,newmarket,oak ridges,vaughn,king city,richmond hill |
| 205/70R15 95T | EXTENSA AS | A premium touring all season | all season | TOYO-aurora,newmarket,oak ridges,vaughn,king city,richmond hill |
| 205/70R15 95T | EXTENSA AS | A premium touring all season | all season | TOYO-aurora,newmarket,oak ridges,vaughn,king city,richmond hill |
| 205/75R15 97T | EXTENSA AS | A premium touring all season | all season | TOYO-aurora,newmarket,oak ridges,vaughn,king city,richmond hill |
| 215/60R15 93T | EXTENSA AS | A premium touring all season | all season | TOYO-aurora,newmarket,oak ridges,vaughn,king city,richmond hill |
| 215/65R15 95T | EXTENSA AS | A premium touring all season | all season | TOYO-aurora,newmarket,oak ridges,vaughn,king city,richmond hill |
| 215/70R15 97T | EXTENSA AS | A premium touring all season | all season | TOYO-aurora,newmarket,oak ridges,vaughn,king city,richmond hill |
| 215/75R15 100T | EXTENSA AS | A premium touring all season | all season | TOYO-aurora,newmarket,oak ridges,vaughn,king city,richmond hill |
| 225/60R15 95T | EXTENSA AS | A premium touring all season | all season | TOYO-aurora,newmarket,oak ridges,vaughn,king city,richmond hill |
| 225/70R15 100T | EXTENSA AS | A premium touring all season | all season | TOYO-aurora,newmarket,oak ridges,vaughn,king city,richmond hill |
| 225/75R15 102T | EXTENSA AS | A premium touring all season | all season | TOYO-aurora,newmarket,oak ridges,vaughn,king city,richmond hill |
| 235/70R15 102T | EXTENSA AS | A premium touring all season | all season | TOYO-aurora,newmarket,oak ridges,vaughn,king city,richmond hill |
| 235/75R15 105T | EXTENSA AS | A premium touring all season | all season | TOYO-aurora,newmarket,oak ridges,vaughn,king city,richmond hill |
| 235/75R15 108T | EXTENSA AS | A premium touring all season | all season | TOYO-aurora,newmarket,oak ridges,vaughn,king city,richmond hill |
| 205/55R16 89T | EXTENSA AS | A premium touring all season | all season | TOYO-aurora,newmarket,oak ridges,vaughn,king city,richmond hill |
| 205/60R16 91T | EXTENSA AS | A premium touring all season | all season | TOYO-aurora,newmarket,oak ridges,vaughn,king city,richmond hill |
| 205/65R16 94T | EXTENSA AS | A premium touring all season | all season | TOYO-aurora,newmarket,oak ridges,vaughn,king city,richmond hill |
| 215/60R16 94T | EXTENSA AS | A premium touring all season | all season | TOYO-aurora,newmarket,oak ridges,vaughn,king city,richmond hill |
| 215/65R16 96T | EXTENSA AS | A premium touring all season | all season | TOYO-aurora,newmarket,oak ridges,vaughn,king city,richmond hill |
| 225/60R16 97T | EXTENSA AS | A premium touring all season | all season | TOYO-aurora,newmarket,oak ridges,vaughn,king city,richmond hill |
| 235/60R16 99T | EXTENSA AS | A premium touring all season | all season | TOYO-aurora,newmarket,oak ridges,vaughn,king city,richmond hill |
| 235/65R16 103T | EXTENSA AS | A premium touring all season | all season | TOYO-aurora,newmarket,oak ridges,vaughn,king city,richmond hill |
| 225/60R17 98T | EXTENSA AS | A premium touring all season | all season | TOYO-aurora,newmarket,oak ridges,vaughn,king city,richmond hill |