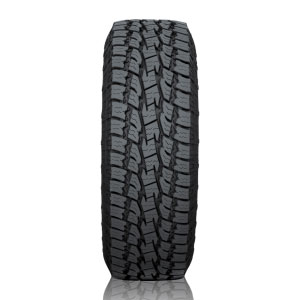 Toyo Open Country All Terrain AT II
Toyo Open Cuntry AT 2 in Aurora,Oak Ridges,Vaughn,Bradford and Newmarket is available at Aurora Tire. The durable, Open Country A/T offers aggressive traction for pickups, vans and SUVs. This versatile all-terrain tire delivers rugged good looks without compromising handling, ride comfort or on- and off road stability.The Toyo Open Country A/T II gives you all the traction you need with more durability and longevity than the competition.  And with the option of going "Xtreme" the Open Country A/T II Xtreme delivers peak performance with rugged good looks. With the even tougher Open Country A/T II you'll be ready for your next adventure!
All terrain tough – on road comfort.
Aggressive Block Design

For enhanced off / on road grip, and water evacuation making for a great all weather tire whatever the terrain.
Special Wavy Sipe Arrangement

Provides a smooth, comfortable ride.
Improves snow traction.
Variable-Pitch Design

Offset block pattern reduces road harmonics making for a quieter more comfortable ride when new and in the later part of its life cycle.
Open Shoulder Design

Maximizes water evacuation in the wet and gives improved all terrain traction and stability off the road.