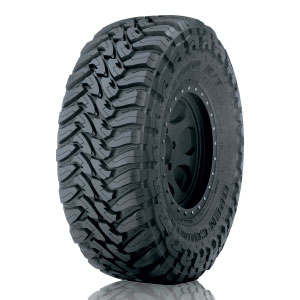 Best prices on Open Country M/T in Richmond Hill,Oak Ridges,Aurora,Newmarket and Keswick is sold at Aurora Tire. The Toyo MT is designed for full-size pickups driven by enthusiasts who require extra ground clearance, load-carrying capacity and off-road capability with great on-road performance.  The Open Country M/T is designed to increase the vehicle's off-hiqhway performance with an enhanced look.
The Open Country M/T incorporates new production technology along with Toyo's award-winning DSOC II Technology for unheard of levels of uniformity, which help deliver uncompromised control, handling and fun with ultimate style.
Aggressive, Attack Tread Design with Hook shaped blocks

Delivers excellent off-road traction and great on-road performance.
Open, Scalloped Shoulder Blocks and Over-The-Shoulder Tread

Provides maximum traction regardless of terrain.
Deep Siping In The Tread Blocks

Help maintain grip on wet surfaces.
High Turn-Up, 3-Ply Polyester Casing

Strengthens tire to provide excellent handling and durability while maintaining proper load capacity.