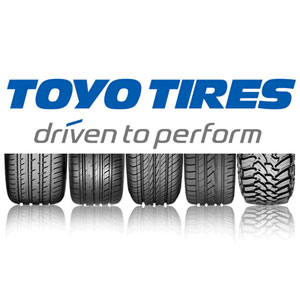 Toyo Tire Richmond Hill-Oak Ridges
Toyo Tires in Aurora Oak Ridges-October 25, 2016
Toyo Tires in Oak Ridges, Richmond Hill, Newmarket, Aurora,Vaughn and King City have been actively distributed for over 20 years. Toyo Tires has stood for innovation, quality, performance, and excellent service for over 60 years, including 30 years in Canada.  Combined, the Toyo group of companies has development, manufacturing, testing, distribution, and marketing operations throughout the Americas, Europe, Asia, the Middle East, and Oceania.
As a result, Toyo Tires has built a solid reputation around the world. And who knows tires better than the very people who sell them everyday? In North America, Toyo Tires has been named #1 Overall Brand again and again and again by tire dealers in Tire Review magazine's Annual Tire Brand Study*.
In fact, our consumer tires have been voted #1 Overall Brand by North American tire dealers an unprecedented seven times since 2000. Since 2002, our medium truck tires have received the honor five times.
We're celebrating our 30th Anniversary in Canada and to honour this momentous milestone Toyo is giving away some awesome prizes! Contact Aurora Tire 905-7527-8473 to see how you can qualify for your chance to win a a set of 4 tires from TOYO
Press Releases
Toyo Tires Introduces a Tougher All-Terrain Tire With 40% More Treadlife and a 65,000-Mile Warranty
Sep 4, 2012
8:00am
New Open Country® A/T II
CYPRESS, CALIFORNIA — Toyo Tire U.S.A. Corp. announces a tougher all-terrain tire is now available for truck and SUV owners. The all-new Toyo Open Country A/T II offers over 40% more treadlife than the leading competitors, exceptional all-season performance, an aggressive new tread design, and a quiet ride.
It also comes with an industry-leading 65,000-mile warranty for P-Metric and Metric sizes, as well as a 50,000-mile warranty for LT and flotation sizes. Last but not least, the Open Country A/T II qualifies for Toyo Tires' No Regrets 45-day, 500-mile trial offer.
Improvements in performance and wear are attributed to changes in compounding and design. A new wear-resistant tread compound has significantly increased tread life while maintaining all-season capabilities. The new tread design delivers enhanced performance on and off the road, including in rain, mud and snow. At the same time, tread features were developed with low noise and comfort in mind.
"Our goal was to create the toughest, longest lasting all-terrain tire on the market," said Fardad Niknam, senior director of product planning and technical services, Toyo Tire U.S.A. Corp. "When independent third-party test results showed the Open Country A/T II delivering over 40% longer treadlife than leading competitors we knew we had a special all-terrain tire."
Nearly 100 different size combinations are available through Toyo Tires dealers across the country. They range from 15 to 20 inches in rim diameter, including original equipment and plus fitment sizes. For enthusiasts wanting an even tougher tire, Xtreme sizes such as 35×12.5R18 feature a deeper tread depth and a more aggressive tread and shoulder design.
The Toyo Open Country All Terrain Tire will be available in the Richmond Hill, Vaughn,Newamarket area in March 2013 at Aurora Tire and Wheel.